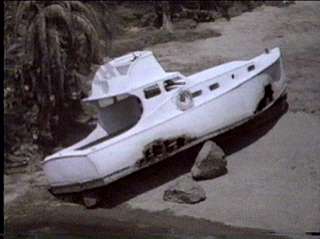 Way back when, Tower Records used to publish a free magazine, where in the letter columns readers would submit their "Desert Island Picks".
Faithful friends and readers, I ask for your help.
If you were stranded on a desert island and through the miracles of modern technology, could take 10 dvds with you, what would they be?
STEFAN BLITZ'S TOP 10 DVDS AS OF 7/1/04
(in no particular order)
JAWS
Spielberg's best and is actually my favorite film of all time. Watch it until it comes to a slow part. Oh, damn, it's over. What better way for me to enjoy a desert island with complete paranoia?
FLASH GORDON
It should be unwatchable. It's not.
NOBODY'S FOOL
Paul Newman's performance is brilliant. So are Bruce Willis and Melanie Griffiths (who knew?)
RAIDER'S OF THE LOST ARK
Watch this and pray that they don't do a fourth. I wish they didn't do a second or third. So good, even makes the Nazis look cool.
ARMY OF DARKNESS
Campbell + Raimi + Chainsaw = Pure Entertainment.
EMPIRE STRIKE BACK
The only Star Wars movie that's still watchable. Let's hope George keeps it that way.
SUPERMAN THE MOVIE
I like it even more than Star Wars
ALIENS
I'm with my film editing teacher Frank Heying. Best action movie ever.
ROYAL TENENBAUMS
Puts the fun in disfunctional. The kind of movie I'd like to make. I love
RUSHMORE
equally.
OUT OF SIGHT
Completely underrated and unheard of. Clooney is cool. J. Lo can act and it out Tarantino's Tarantino when it comes to the non-linear structure. I also really like Soderbergh's
OCEAN'S ELEVEN
because it's fun as hell.
Now, don't get me wrong. This list changes on a moment's notice. There's no Hitchcock on there. No Billy Wilder. No Scorsese or Carpenter. No Coen Brothers or Coppola. No Pee Wee's Big Adventure. No Vaughn and Favreau.
Let's see yours.