I'm tired. Work has been long the last few weeks and I'm still working on the site and a few other projects.


Harry Potter

is finished (and has been for about a week). Pretty damn entertaining stuff. Based on what needs to be covered and explained I'm curious if Ms. Rowling will break the thousand page mark on Book 7.

One of my very best friends reported some fantastic news. His screenplay (which we will call)

Script X,

looks like it's going to get made finally with the slightly crazy and anti-Vanilla Coke drinking

Major Motion Picture Director

calling the shots. The best part is, a major jump start to his career and a nice chunk of change. I've been with this script since the beginning (the first draft was written in college on my word processor with the hope of David Letterman starring in it), and am so impressed and proud with his work (It's probably one of the best scripts I've ever read, which also explains why the

Major Motion Picture Director

feels that it should be rewritten and probably changed beyond recognition.) To all those involved: Nick, Jonathan, S.K., Jennifer, Eddie, Arthur, and most importantly Billsy, much love and congratulations!

I'm also working on a few comic ideas that I realistically don't have the time or patience to illustrate myself. Any artists out there looking to collaborate, please email me.

I still haven't watched

Million Dollar Baby

, but I did see

Constantine

which I enjoyed and a fantastic film called

The Upside of Anger,

starring Joan Allen and Kevin Costner. Costner, for the first time since

Tin Cup

(but really

Bull Durham

) is charming and funny. His performance is great and there is a fair amount of eye candy with the lovely daughters of the Joan Allen character played by Erika Christensen, Evan Rachael Wood, Kerri Russell, and Alicia Witt. There's a twist that I did see coming, but the movie's strength is that the relationships don't unravel or disappear as a result. Highly recommended.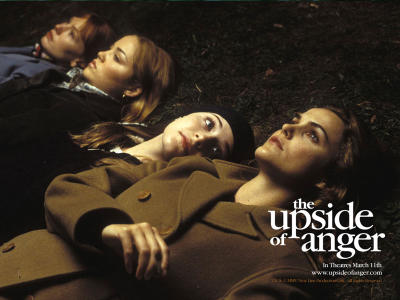 On that note, enjoy the eye candy and I'm going to bed.